Our March Madness event was a rip-roaring success, far beyond our expectations. Our volunteers completed and cataloged seventy (70!) new works, far too many to list in this post but including such varied works as:
Sense and Sensibility by Jane Austen
Plague Ship by Andre Norton
The Master Key by L. Frank Baum
Ghost Story Collection 003
The Clue of the Twisted Candle by Edgar Wallace
Contes en vers by Charles Perrault
Domestic Cookery, Useful Receipts, and Hints to Young Housekeepers by Elizabeth E. Lea
And many, many more. Browse through our catalog and you're sure to find something new and interesting.
Here's a chart showing our Completed Works by month: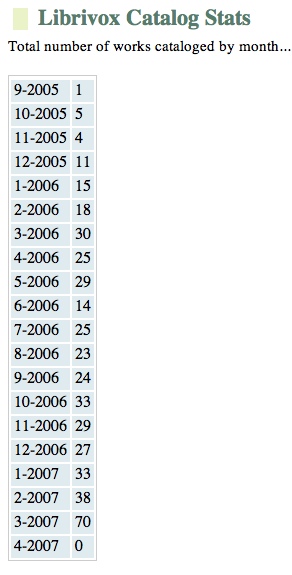 A million thanks to our tireless readers, organizers, proof-listeners, editors, catalogers, trouble-shooters, coders, and cheerleaders!
UPDATE: And here is the list of completed books in March:
1.Cosmic Computer by H. Bea, Piper
2.Byways Around San Francisco Bay by Hutchinson, W. E.
3.Clue of the Twisted Candle, The by Wallace, Edgar
4.Twilight of the Idols, The by Nietzsche, Friedrich, Ludovici, Anthony M.
5.Pollyanna by Porter, Eleanor H.
6.Contes en vers by Perrault, Charles
7.Domestic Cookery, Useful Receipts, and Hints to Young Housekeepers by Lea, Elizabeth E.
8.Ideal Bartender, The by Bullock, Tom
9.Sense and Sensibility by Austen, Jane
10.Otto of the Silver Hand by Pyle, Howard
11.Ballads of a Bohemian by Service, Robert W.
12.Legend Land V 1 & 2 by Various, LYONESSE
13.Épîtres de Pierre by Anonyme
14.Plague Ship by Norton, Andre
15.Life in the Clearings Versus the Bush by Moodie, Susanna
16.Three Men in a Boat (To Say Nothing of the Dog) by Jerome, Jerome K.
17.Story of the Middle Ages, The by Harding, Samuel B.
18.Hound of the Baskervilles, The by Doyle, Arthur Conan, Sir
19.Hollow Needle, The by Leblanc, Maurice
20.Relativity: The Special and General Theory by Einstein, Albert
21.Master Key, The by Baum, L. Frank
22.West African Folk Tales by Barker, William H.
23.On the Popular Judgment: That may be Right in Theory, but does not Hold Good in the Praxis by Immanuel Kant, D.E. Wittkower, ed.
24.Of the Injustice of Counterfeiting Books by Kant, Immanuel
25.Ring o' Roses: A Nursery Rhyme Picture Book by Brooke, L. Leslie
26.At the Back of the North Wind by MacDonald, George
27.Ghost Story Collection 003
28.Familiar Letters on Chemistry by Liebig, Justus, Gardner, John (ed)
29.Letter Concerning Toleration, A by Locke, John
30.I'm Nobody – Emily Dickinson
31.Jack and Jill – Alcott , Louisa May
32.Omnilingual – H. Beam Piper
33.The Sign of the Four – Arthur Conan Doyle
34.The Iliad for Boys and Girls – Alfred J. Church
35.Short Poetry Collection 026
36.The Consolation of Philosophy – Boethius
37.The Antichrist – Friedrich Nietzsche
38.Poems of Gerard Manley Hopkins, ed. Robert Bridges – Gerard Manley Hopkins (Robert Bridges, ed.)
39.Some Experiences of an Irish R.M. – Edith Oenone Somerville
40.Fables de La Fontaine, livre 02 – La Fontaine, Jean de
41.The Devil's Pool – George Sand
42.O, it was out by Donnycarney – James Joyce
43.The Scarlet Pimpernel – Baroness Emmuska Orczy
44.Collected Works of Saint Patrick – Saint Patrick
45.The Spinster Book – Myrtle Reed
46.The Glugs of Gosh – C. J. Dennis
47.Thurley Ruxton – Philip Verrill Mighels
48.Miracles – Walt Whitman
49.Twenty Thousand Leagues Under the Sea – Jules Verne
50.The Adventures of Sherlock Holmes – Doyle, Sir Arthur Conan
51.The Wonderful Wizard of Oz – L. Frank Baum
52.On Liberty – John Stuart Mill
53.Candide – Voltaire
54.The King in Yellow (part 2) – Robert W. Chambers
55.The Autobiography of Mother Jones – Mary Harris Jones
56.Short Poetry Collection 025
57.The Story of My Life – Helen Keller
58.Barchester Towers – Anthony Trollope
59.Moby Dick, or the Whale – Herman Melville
60.Ophelia – Walter de la Mare
61.Bohemian San Francisco – Clarence Edwords
62.The Sayings of Confucius – Confucius
63.The Monkey's Paw – W. W. Jacobs
64.Librivox's Short Story Collection Vol. 011
65.The Island of Dr. Moreau – H. G. Wells
66. Perpetual Peace: A Philosophical Essay, by Immanuel Kant
67. Oomphel in the Sky, by H. Beam Piper
68. Interesting Narrative of the Life of Olaudah Equiano – Olaudah Equiano
69. History of England from the Accession of James II (Volume 2, Chapter 08) – Macaulay
70. The Getting of Wisdom – Henry Handel Richardson
71.The Junior Classics (Technically April 1, but it was ready March 31 and the servers weren't cooperating)